This roleplay page belongs to Michy.
Please Note: this page is under construction.
Dean Winchester
Edit
Emmaline Walsh
Edit
Sam Winchester
Edit
Adam Milligan
Edit
John Winchester
Edit
"From the moment I met him, I knew he was the one. He is my soulmate... I was destined to love him. Nothing is going to change that."
— Nevaeh, to her father.
Main article: Nevaeh and Castiel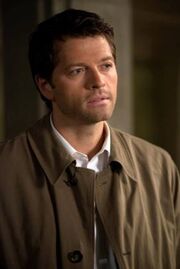 Castiel is Nevaeh's soulmate and future husband. She first came into contact with Castiel on October 31, 1995, the day she was born. However, it was briefly, as Castiel saved her life, then took her and placed her into the care of her step-family because her mother had been killed. 
Years later - on September 20, 2008 - Nevaeh met Castiel again when she was thirteen. Castiel and her formed a close bond with one another right away, and he began acting as her protector. Castiel had no intentions of informing Nevaeh that they were soulmates and kept it to himself, wanting her to have a chance at falling in love. However, Archangel Michael, who is also Nevaeh's maternal grandfather, informed her - along with Dean and Sam - that she and Castiel were soulmates. 
At first, Nevaeh was furious with Castiel for not telling her something so important, but she soon comes to understand Castiel's reasons for not telling her the truth. Eventually, Nevaeh comes to her own decision and tells Castiel that they've already formed a close bond - becoming best friends and allies - and that she can't ever see herself loving someone other than him. She tells him that she'll be with him when she's ready, but until then, he's going to have to wait and continue to be her protector and best friend.
Ad blocker interference detected!
Wikia is a free-to-use site that makes money from advertising. We have a modified experience for viewers using ad blockers

Wikia is not accessible if you've made further modifications. Remove the custom ad blocker rule(s) and the page will load as expected.