This character is owed by Alex and is coming soon
Ophelia Van Tassel
Biographical information
Born

Noverber 1989, Sleepy Hollow, New York

Age

25 years old

Status

Single

Physical description
Gender

Female

Height

5'5

Hair color

Brown

Eye color

Blue

Skin color

Pale

Family information
Family members
Special characteristics
Specific Skills

Spell Casting
Potion Brewing

Specific Weakness
Affiliation
Loyalty
"I've been schooled my whole god damn life to despise vampires, yet that has only made me much more invested in knowing them. I was never one for playing by the rules, I'm afraid."
— Ophelia
Ophelia Van Tassel is the eldest sibling of the current line of Van Tassel children. She has three other siblings, Colin, Madeline and Luna.
The Van Tassel siblings are witches who descend from the Van Tassel line of witches. They are the descendants of the witch who gave her blood to turn the Darling family into the first vampires. Each sibling has one specific power inherited from their ancestor, Katrina Van Tassel.
Ophelia and her family were made aware of her Wiccan background at a young age and were schooled in the art. Both parents came from a Wiccan background, many witches think it important to marry another of their kind to keep the bloodline pure.
The War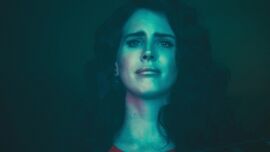 Ad blocker interference detected!
Wikia is a free-to-use site that makes money from advertising. We have a modified experience for viewers using ad blockers

Wikia is not accessible if you've made further modifications. Remove the custom ad blocker rule(s) and the page will load as expected.