This character belongs to
LisaEmma
and is
here
.
"My life has never been normal."
— Rose on her crazy life
Rosemarie Campbell
Biographical information
Born

May 22, 1986

Status

Alive

Species

Human (currently)
Demon (possessed)

Age

28

Marital

Single

Sexuality

Bi-Sexual

Status

Alive

Alias

Rose (by friends and family)
Rosie (who dares call her that)
Rosie Posie
Blondie
Badass Hunter

Physical description
Gender

Female

Height

5'9"

Hair color

Blonde

Eye color

Green

Skin color

Light

Family information
Family members
Enemies
Other characteristics
Specific Skills

Hunter skills
Hand-to-hand combat

Language(s)
Drink of Choice

Whiskey

Affiliation
Bloodline
Loyalty
Occupation

Student (formerly)
Supernatural Hunter

Rosemarie "Rose" Campbell is a hunter. She is one of the main female characters in Supernatural. Rose is the cousin to Dean and Sam Winchester and related to the Campbell and Winchester families.
Rose knew about the supernatural after her mother was killed by a demon when she was six years old. Her father taught her everything he knew and she became a very good hunter.
She stayed in the one town, training up to become a hunter as well as having a normal school life. She graduated earlier and started hunting demons when she turned seventeen.
She met up with Dean and Sam and company them for the rest of their adventures.
Rose is a relative to Campbell and Winchester Family.
Biography
Edit
EARLY LIFE
Edit
Rose Campbell was born on May 22, 1986 to Edward and Stephanie Campbell in Texas. She was adored and loved by her parents. She met her cousins; Dean and Sam; who were older then her and come closer to them.
In 1992, six years old, she watched her mother as it was just her and her mother getting killed by a demon, and about to kill her when her father came, harming the demon before he left.
Then her dad told her all about the supernatural world and they will find the demon who did this to her mother. They had move away from the town to another.
When she wasn't at school, she was being trained by her dad, getting ready for the supernatural world. She was considered as an outcast at her school, as she was always alone and never talk to anyone, unless she was spoken to.
She graduated high-school a year early then attended to, and began her hunting when she turned seventeen years old, going around the States with her father, hunting and killing demons or ghosts.
Season One
Edit
Season Two
Edit
Season Three
Edit
Season Four
Edit
Season Five
Edit
Season Six
Edit
Season Seven
Edit
Season Eight
Edit
Season Nine
Edit
Season Ten
Edit
Physical Appearance
Edit
Rose is a beautiful girl. She stands 5'9" tall with a voluptuous body. She long, wavy blonde hair which she usually wear down. She has piercing blue-green eyes. She wears casual clothing except for going to an event to dress up.
Personality Traits
Edit
Rose is a loving and caring person. She is protective of her family and close friends. But she is also avenging and vindicative. She is considered to be an outcast and a loner when she was school, because she was busy doing her hunting training.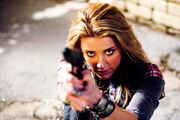 Rose is very skilled hunter. She is excellent at hand-to-hand combat and weapons aim. 
Ad blocker interference detected!
Wikia is a free-to-use site that makes money from advertising. We have a modified experience for viewers using ad blockers

Wikia is not accessible if you've made further modifications. Remove the custom ad blocker rule(s) and the page will load as expected.